Today is Still the Day: A Blueprint for a 3D Life of Wholeness
by Ann J. Musico, CHHC
"Today is Still the Day" is a blueprint for overall health and fitness – spirit, soul and body. The meal plan, recipes and nutritional portion will help you lose weight, but it doesn't end there. While some diets touch on the importance of right thinking, "Today is Still the Day" addresses spirit and soul issues as well. These are the issues that can derail even the best diet plan if they are not addressed. Meal plans and recipes based on nutrient-dense whole foods and biblical principles including forgiveness, speaking faith confessions and renewing your thinking form the foundation of this plan.
It is based on Ann's "3-D Living Program." Each of the four steps – detox/cleanse, nourish/fuel, intentional exertion/exercise and rest/reboot – are applied to spirit, soul and body. Any diet will cause weight loss – temporarily. In order to get fit and stay that way you must make changes you can incorporate into your daily life. This plan is easy-to-understand and use, overflowing with practical tips to help you achieve truly lasting, vibrant health. "Today is Still the Day" is more than a diet. It is a doable, step-by-step plan for creating a truly "3-D" life of wholeness.
Ivey's Review on Today is Still the Day
Finally, help in the time of need.
The last thing any of us need is another diet book. We need a revelation from God. Now we have it in this thoughtful, inspired book by Ann Musico. Get your breakthrough so that you do not have to spend the rest of your life battling food choices and weight problems. Live life to the fullest with 3-Dimensional wellness.
I recommend this book to everyone, praying that everyone I care about will read it. For those of us who have struggled, it is saving grace. For those who are able to maintain a healthy weight, it is health for life. Jesus came to give us abundant life. Ann Musico delivers life and light in this well written, understandable book. You will also benefit from Ann's secret tips and from her years of experience.
If you have ever struggled with weight, struggle no longer. If the media and information barrage about nutrition, health and diet have you confused, then find your freedom and answers in these pages. Not only will you find the answers you need, you will find support and a plethora of resources. Don't miss your chance to win the battle over weight and food forever. Be healthy, whole and live life full throttle!
Hearing God Through Your Dreams
by Mark Virkler and Charity Virkler Kayembe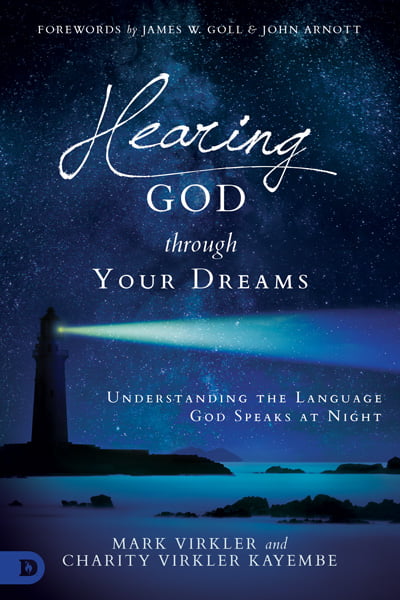 Ivey is mentioned in the book three times. Can you find her?
Learn How to Hear God's Voice Even When You Are Sleeping
"Team Virkler has made dream interpretation easy. No more 'pizza dreams.' Only messages from God!" — Sid Roth, Host of It's Supernatural!
On average, people spend 33% of their entire lives sleeping. Even when you are asleep, Heaven is still communicating. Your spirit is still awake, though your body is not. The question is: How do you simply and biblically capture this flow every night?
Hearing God Through Your Dreams is a practical and powerful guide to understanding the language that God speaks at night. Through revelatory teaching, supernatural stories, and a refreshing, down-to-earth approach, Charity and Mark will help you identify the priceless messages with which the Lord has infused your dreams.
Discover how:
Your dreams are bridges that connect you with the supernatural realm
Visions and dreams are scripturally sound and relevant for your life, today
Dreams tap into and unleash divine creativity that is deep within you
Bad dreams can be transformed into blessings
You can interpret dreams using proven tools and biblical techniques
The meaning of personalized symbols in your dreams can be unlocked
Don't miss out on what Heaven is revealing to you while you're sleeping. Start Hearing God Through Your Dreams today!
About The Author
Dr. Charity Kayembe earned her Master of Divinity and Doctor of Biblical Studies through Christian Leadership University. She is ordained through CWG Leaders Network and has worked alongside her parents in ministry for twenty years. Charity is passionate about bringing heaven to earth through restoring the supernatural to believers' everyday lives. Her international outreach has taken her to all corners of the globe, traveling to over 50 nations on six continents. She and her husband live in upstate New York.
Ivey's Review on Hearing God Through Your Dreams
This book will take you places you never dreamed of. Whether you are a prolific dreamer or don't remember your dreams, you will find this manuscript a fun, yet informative tool for learning to remember and decipher your dreams. The examples used are simple and illustrative. You will be amazed at how God can communicate ideas through images. This easy to use tutorial will help even the most intractable dreamer begin to enjoy movies in their sleep. It is a must have for the busy person whose hectic days leave little quiet time for the voice of God. Now we can learn to hear God speak to us while we sleep. If you are a business person you will love Psalm 16:7 which tells us that God instructs us in the night. What a great time to have a conference with God. The best part is practicing, so go take a nap and enjoy God speaking to you through your dreams.
EFT for Christians: Tapping into God's Peace & Joy
by Charity Virkler Kayembe, Ph.D. and Sherrie Rice Smith, R.N. (retired)
Scripture tells us that we comfort others with the comfort we ourselves have received (2 Corinthians 1:3–5). To the degree that we are healed and comforted, we can offer those same gifts much more freely to others.
Emotional Freedom Techniques, EFT, is a God-created physiological technique that allows us to experience liberty and choice about our feelings and how we experience them. It involves tapping gently on acupressure points of the face and upper body. This tapping can release pent up emotional stress, via the neurological system, of daily and long-term events and memories. Hundreds of university research projects now show why EFT works so well in releasing various traumas, including anxiousness, fears, and persistent sadness.
Learn how to experience emotional freedom by tapping into God's peace and joy today!
Ivey's Review on EFT for Christians
"I will give thanks to You, for I am fearfully and wonderfully made; Wonderful are Your works, And my soul knows it very well." (Psalm 139:14)
We are only beginning to appreciate these astute words from King David. Truly we are wondrously made. Science is beginning to reveal the wonder of God's genius in the creation of the human body. Now enter a new chapter in this revelation. Emotional Freedom Techniques (EFT) uses the miracle of our creation, the wonder of our construction to release tension, anxiety and worry.
This book will put a powerful tool into your own hands. You will no longer need to fear the shadows in the dark recesses of your mind, heart or past. The authors will lead you, in a non-threatening way, through a procedure which will allow you to very simply break free of anything that has ever tormented you. You can even wash away those unsettling emotions which are still lying in the pit of your stomach from your most recent meeting or phone call. Learn to survive holidays with the family and to regain your peace and joy.
You were meant to live in the peace of the Lord. God even empowered your physiology with the ability to release joy into every fiber of your being. EFT is a tool you are going to want in your toolbox and EFT for Christians: Tapping into God's Peace & Joy by Dr. Kayembe and Sherrie Rice Smith is a book you will want in your briefcase.