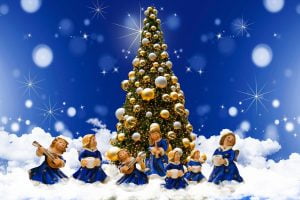 You know the lyrics to the famous Christmas Carol, "Hark the herald, angels sing, glory to the new born King!"  A herald is a bringer of news, an official messenger.  Hearken to the voice of the messenger, in other words, for he is bringing you good news of a great joy, so joyous, in fact, that the angels sing, "Glory, Glory!  The King is born!"  Think of that, angels celebrating with uplifted voices because the savior has arrived.  I guarantee you they are singing, "Glory, glory," even until today.
There are many images of Christmas and we have many demands placed on us at this time of year.  People who are essentially loners are forced into more social gatherings than they can bear.  The social creatures must restrain themselves so they have time for the necessary to do's.  Amidst all the holiday furor, where is there time for Christ?  Even going to church on Christmas Eve becomes one more thing we have to do.  Even as outgoing as I am, there are moments when I, too, want to run away to Christmas Island with Jesus.
The images of boxes and bows, of Santa and the reindeer begin to crowd out the image of angels crying out with loud voices about the coming of the Christ child.  Our own voices are muted by the stress of the season and our hears fail to hear the Angelic chorus.  Maybe, though, you can sneak away for a few moments.  Maybe you can find solitude in the shower or perhaps you need to take a drive in the country.  A long walk might be the best medicine you can take.  In any event, I pray that you can take some moments, steal some time out of a busy schedule to celebrate Jesus' birth and what that birth means in your life.  Maybe you can put a Christmas CD in the player of your car and crank the volume so loud that it drowns out your own voice.  Then, perhaps, you can sing with abandon.  This I will promise you, the angels will join your joyous, vocal celebration.  You don't even have to sing on key because all they hear is the beauty of praise lifted up to the king.  All that is important is that your heart sings.  Believe me, if you will let the joy and the love of the Lord radiate from your spirit, you will stir up the heavenly host.  Isn't that exciting?  They will join their voices with yours to celebrate the king.
I pray, in the name of our Lord and King, that you have a very blessed Christmas.  I pray that the image of that little child, born 2000 years ago, touches the tender parts of your heart and brings you great joy.  I am going to take off the rest of 2018 and heed the advice I give you.  Until next year, be blessed!