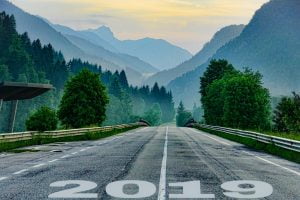 Where do you want to go this year?  The year is new and there is nothing you cannot achieve with the Holy Spirit.  January 1st is the eternal do over.  Forget your age, for you are neither too old nor too young.  You can build on last year's achievements and springboard off the failures.  It is a new day, brand new and all things are possible.  Catch a vision of where you would like to go this year.  Believe in your heart that your vision is God's desire.
I pray, with all sincerity, that 2019 fulfills all its promise in your life.  I wish you a very Happy New Year where all your dreams come true and I look forward to continuing our journey together and experiencing all the wonder and glory the Lord, our God and Father, has in store for us.
Happy New Year Everyone!!