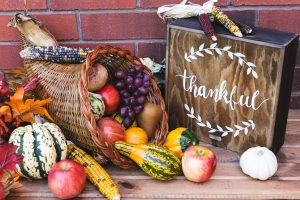 Psalm 100: 4
Enter His gates with thanksgiving, And His courtyards with praise. Give thanks to Him, bless His name.
It's been a hard year but let's give thanks for all the Lord is. Offer him sacrifices of thanksgiving. What if we did that, made thanksgiving offerings.  That is what they did in the Old Testament.  They showed their thanks in a tangible way by taking an offering to the church.
Like the Pilgrims of old, let's be grateful for having survived the year and that we have food to eat. And while we are giving thanks, let's remember those who perished this year and who don't have food. Open your heart to the joy of the Lord but also to His heart of compassion. Thank you, Father, for looking after us and please care for all the people who don't know you and feed those who are hungry. Thank you.