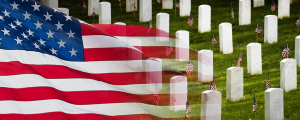 As we pause this weekend to remember and honor those who gave their lives to protect our freedom, let us also remember the one who initially purchased that freedom for us.  Love is known by this, that Jesus willingly laid down his life for us (1 John 3: 16) so that we might be free.
The Word of the Day will start it's summer schedule beginning next week.  Posts will be sent on Mondays only.  Since Psalm Mondays seemed to be enjoyed, we will begin Proverb Mondays.  We will start with Proverb 1 next week and then go through the Proverbs sequentially.  Read ahead and ask yourself which verse you would select from the next Proverb.
Have a happy Memorial Day!