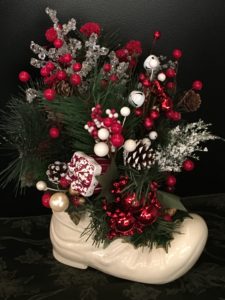 Merry Christmas!
Christmas tidings to every one of you. I pray that this Christmas Season will be a warm reminder of why you became a Christian.  I pray that your relationship with Christ will be rejuvenated and renewed.  It is also my hope that you will receive healing for the stress this year has brought.
This arrangement, done by Diane Jones, reminds me that we can arrange our lives and thoughts according to the limitless grace of our dear Lord.  Though 2020 handed us many lemons, they can be squeezed and made into lemonade.  Diane's arrangement encourages my spirit with its beauty and its whimsical hints.  It brings joy and even a sense of peace.  Even in this sometimes horrible year, we can still make something beautiful.  Santa's boot reminds me of a giver whose name means "holy."  The jolly man in the red suit represents the first and greatest of all givers, our beloved Father who gave the first and greatest of all gifts, the dear Lord Jesus.
May your heart also be overwhelmed by the goodness that is still evident in this beaten up world.  May you receive, again, the greatest of all gifts, a sweet baby sent to save us from torment and hell.
All hail the Lord.  Praise and glory to his holy name and beauty and kindness to all people in his blessed name.  Be blessed my beloved.  Let your heart be renewed and soar in the love that is Christ at Christmas.
Until January fourth when the Word of the Day returns, let us pray for each other, everyone who receives this devotional, please pray for everyone else who receives the Word of the Day.  Let us look forward to joy and peace in this season and the new year.  God bless you all!