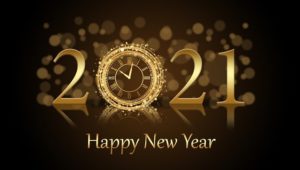 Revelation 21: 5
And He who sits on the throne said, "Behold, I am making all things new." And He said, "Write, for these words are faithful and true."
We will resume our Psalm Mondays next week. I wanted to take this opportunity to wish you a Happy New Year and to bless your year and heart in the name of our Lord, Jesus, who is the long-awaited Christ.
Never have we been so glad to kiss a year good-bye. It feels good to type 2021 because of the hope a new year brings. 2020 was particularly challenging but each January we enjoy a sense of renewal. We get a "do over" and enjoy a certain freedom in plans and hopes. I pray that your hope is renewed. Behold, all things are new. Whoo Hoo!
It is appropriate that the New Year comes on the heels of Christmas. Christmas is about hope. It is the celebration of the answer for the problems of the world being sent to every human being. Do you feel joy knowing that Jesus was born to us, that he came into the earth bringing salvation? Glory to God because we do have hope and joy and victory in Jesus. We can rejoice because he is! Let the earth continue to ring with the good news of a child born who brings healing in his wings.
I want to celebrate Christmas all year this year. The heart is most sensitive at Christmas, and people remember what is important. Additionally, hope is renewed in Christ our beloved. Speaking to a friend recently, we expressed our great thankfulness for the hope we have in Jesus. We also lamented the truth that some people live without that hope, the hope and peace which sustains us. Even through the most tumultuous times, we have the peace which surpasses understanding and we have hope.
My New Year's wish is that all the world will know and experience the peace and hope which is only in Christ Jesus. May your heart and spirit enjoy a renewal of these great gifts from a loving Father and may those without hope see upon your face the light of those endowments.
God bless you, each one, and may this year be one of great hope and rejoicing. Set your expectations high and let's go get some rainbows. Love you all!