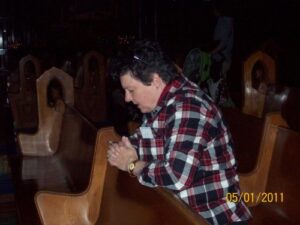 Luke 6: 12
Now it was at this time that He went off to the mountain to pray.
This is a picture of me in the Basilica du Notre Dame in Montreal.  It is a beautiful church and I couldn't resist taking a moment to connect with the Holy Trinity.
I will be enjoying another time of connection this week.  I will be taking a sabbatical this week.  Unfortuately, it will not be in Montreal.  I will be in the mountains of NC which is always nice too.
Perhaps some of you would like to use this week to review the healing verses we have covered so far.  I think when you go back and read some of the early ones, you will find you are in a different place than you were. If you click on this link, it will take you to the first healing list post.  From there, simply go to the bottom and click "next post."  You can continue through the entire list, up to today by selecting "next post."
Here is another tool you may like.  It can be handy in your daily studies, on the weekend or anytime there is not a Word of the Day post.  The document below will show you how to search the Ivey Ministries website and over a thousand messages for a topic of interest or even specific Bible verses.
Devotional Search Instructions
or you can find it on our website:  IveyMinistries on the resource tab.